Ford TPMS
TPMS or Tire Pressure Monitoring System is fitted to Ford cars to provide a warning of low pressure on any one of four or five tires on the vehicle (five if TPMS fitted in spare). A TPMS from one of three manufacturers is fitted as part of the valve assembly in all Ford cars according to the table shown below. The sensor measures the pressure and temperature in the tire and transmits this data along with the unique ID of the TPMS to the tire pressure monitor ECU/receiver. If the TPMS ID is logged with the SJB then it is compared with the placard pressure and if under pressure then a warning light is lit on the dash mounted display.
Ford TPMS types and Fitment
The manufacturers of the Ford TPMS are Schrader Electronics, VDO and Lear. VDO and Lear manufactured the banded sensor whilst Schrader manufacture the valve stem TPMS. The Ford Model range utilising TPMS technology includes the following brands:
Ford Crown Victoria, Edge, Escape, Expedition, Explorer, F-150, F-250, F-350, F-450 TPMS Sensors
Five Hundred, Focus, Freestar, Fusion, Grand Marquis, Mustang, Ranger, Sport Trac Taurus, Taurus X - TPMS Sensors
Lincoln Aviator, Mark LT, MKX, MKZ, Navigator, Town Car - TPMS Sensors
Mercury Grand Marquis, Mariner, Milan, Montego, Monterey, Mountaineer - TPMS Sensors
Mazda 3, 5, 6, B-series pickup, CX-7, CX-9, MX-5 Miata, RX-8, Speed 6, Tribute - TPMS Sensors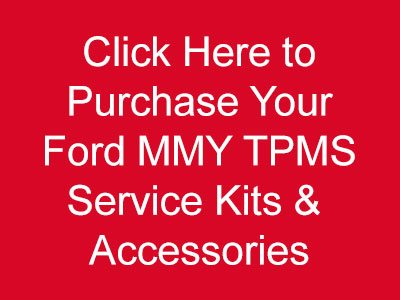 The tables below show which models they are fitted to.
Grey indicates either no TPMS, it was indirect TPMS, or the model was discontinued.